Wild Hair Mods
Click on the thumbnail to see the larger photo.
Nav Station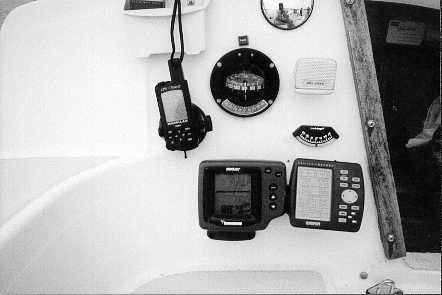 This shows the navigation station. On the bulkhead just to the
left of the hatch, we have a GPS/Depthfinder, a secondary
handheld GPS mount, a secondary depthfinder, an external
VHS radio speaker, compass, and rear view mirrors. In the top of the picture, there is a plastic holder for the handheld VHF radio. If you look at the
lower left hand corner of the hatch door, there is a stainless
U-Bolt. This is to secure our lanyards to our PFD/Harnesses
in rough weather.
Click here to go back to the Wild Hair Home Page