Wild Hair Trailer Mods
We have made many modifications to our trailer. After twice nearly capsizing the trailer after a broken axle and wheel that burned off, plus losing a vehicle into the water, this is our finished product. At least I hope it is finished.
The photos showing the extra axle, the extra bunks and the spare tire mount are not here yet. I will try to get them up soon.
If you read our Bahamas Adventure II story, you know our Jeep Wagoneer sunk in the briny blue of Biscayne Bay. Actually it was at Homestead Bayfront Park Marina, but you get the idea. We had to make some modifications to the trailer, as we have no intention of sinking another vehicle. The mods below are the solution to prevent backing into the water to launch the boat, while still having a short tongue in trailering the boat.
This all cost about $200 at a local shop. We lost over twenty times this amount by the loss of our Jeep, even over what the insurance company covered.
All of these are thumbnails. Click on the image to see the full-size photo.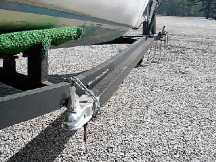 The extension folds back, sits on a L-bracket and secures to the frame with its safety chain.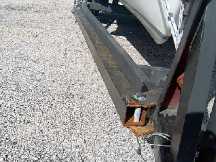 This is the front view of the extension, as it is hinged to the tongue.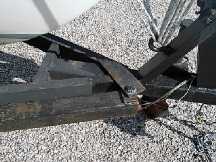 This is the hinge point at the tongue.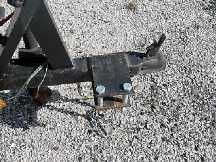 This is the bracket the extension swings into. Two pins hold it securely to the tongue.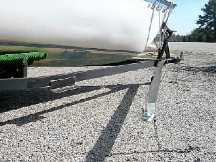 This is the extension being folded out.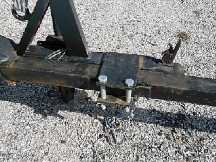 In this photo, the exension is in the bracket, being held by two pins.

Here is a front shot of the extension, completely extended.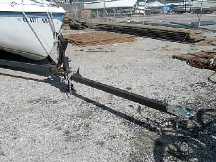 Another front shot of the extension completely extended.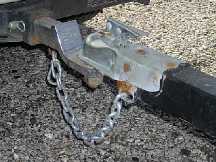 Here the coupler is on the trailer ball, with the one safety chain attached.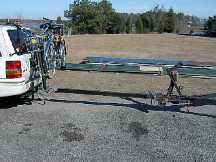 Another picture of the trailer extension connected to the vehicle.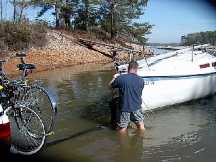 Here I am getting the boat off. The water is so shallow, I could not
have backed it in far enough without the help of the extension.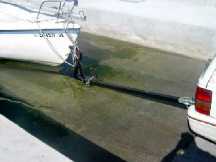 Here we are in Key West, putting the boat in.
The wheels of the vehicle never touch the water.

Click here to go back to the Wild Hair Home Page